The holiday mailings will be here before we know it. That's why we will be on the hunt for the best Christmas postage stamp designs we can find. This week we are concentrating on reindeer – after all, they play a huge part in the Christmas eve event. All of these reindeer stamps come in sheets of 20 stamps, they are peel and stick and – best of all, your satisfaction is guaranteed. If you're not happy for any reason – just return the unused stamps for a full refund!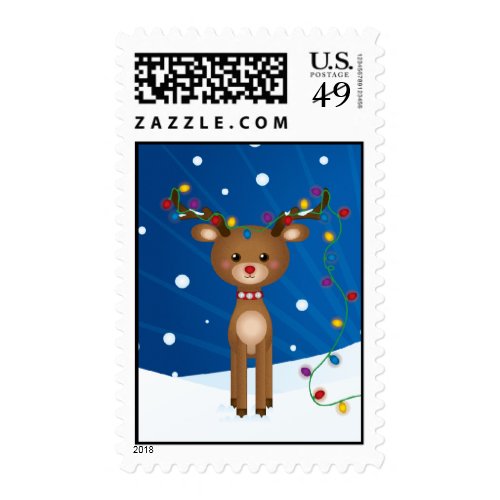 Cute Christmas Lights Reindeer Postage    Isn't this the cutest reindeer?    This little guy is in a bit of a snow forest with a string of colored Christmas lights twirling about his antlers.
Kissing Reindeer Winter Woodland Scene with Santa Postage  This reindeer stamp features two kissing reindeer while in the background Santa and his sleigh are off in the air with 8 other reindeer.  Love the warmth of the colors in this design.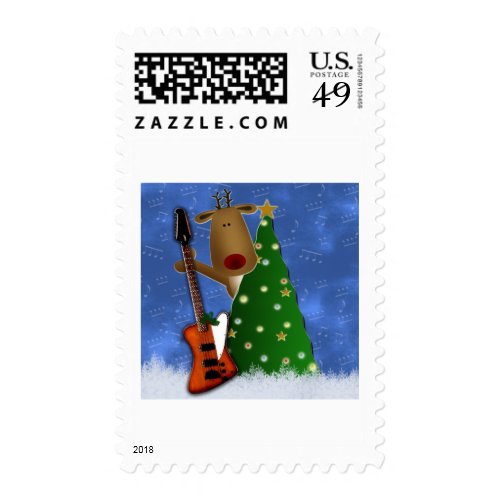 Rockin Reindeer Postage   So here's a reindeer who is totally in love with his electric guitar … hiding behind a small green Christmas Tree.  Rockin' reindeer stamp is pretty fun!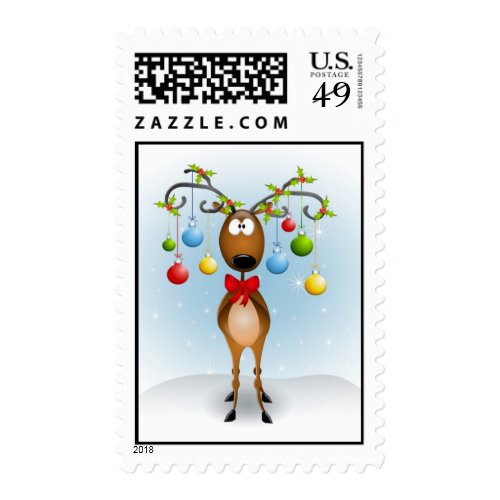 Christmas Reindeer with Ornaments Postage  Love this cartoon reindeer with colorful ornaments hanging from his antlers.  His face is perfect!  Fun postage stamp for your holiday mailings.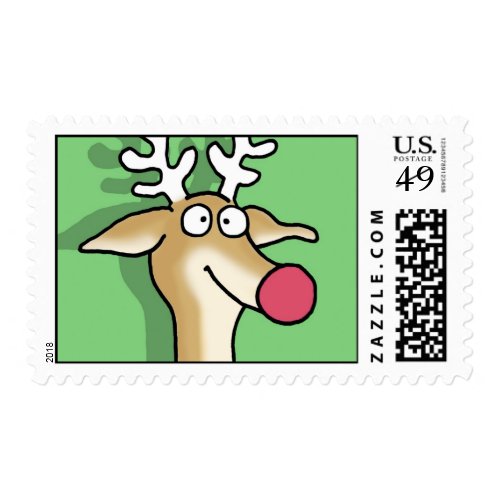 PERKY REINDEER by Boynton Postage Sandra Boynton classic with the "perky" red nose reindeer against a bright green background.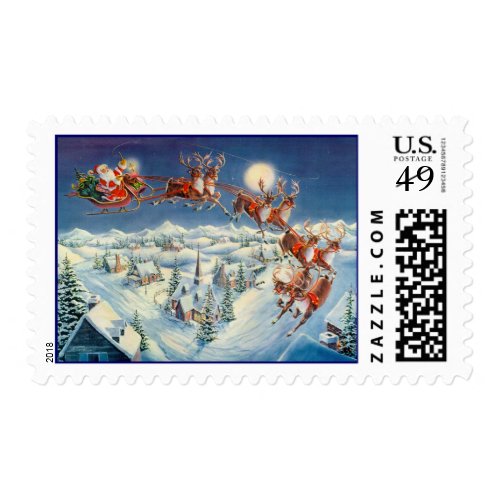 SANTA, SLEIGH & REINDEER by SHARON SHARPE Postage  Old fashioned design with reindeer flying over a serene valley with snow covered trees and roofs.  A bright white moon shines in the background.  If you love old time designs, you'll love this Santa and Reindeer postage stamp.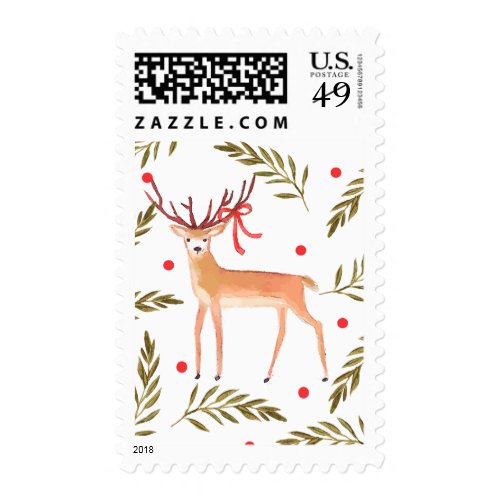 Woodland Reindeer Happy Holidays Postage'  Minimalist design features a reindeer with a red ribbon on his antler and green tree branches with red balls as a pattern in the background.  This woodland reindeer would make a welcome addition to your holiday envelopes.
Christmas Reindeer Postage  Reindeer illustration featuring a group of reindeer with big eyes and interlocking antlers.  A cute addition to any holiday greeting card!
Little Reindeer Christmas Postage Stamps  Little reindeer has a warm red muffler with a red banner reading "Merry Christmas" above his head.  Sweet design would look perfect on your holiday cards this year.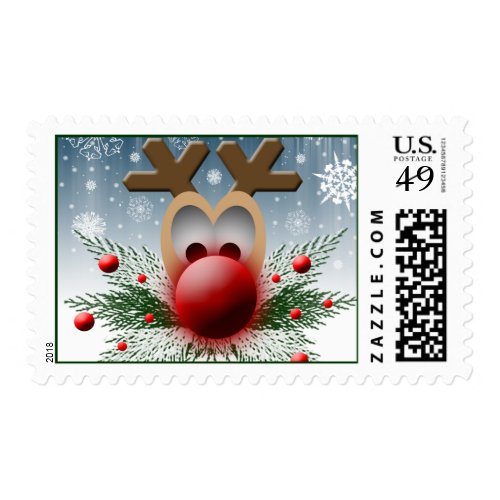 So It Glows Reindeer Christmas Holiday Xmas Postage  And so it glows is right!  Giant red nose reindeer featuring sprigs of holly, red ornaments and white snowflakes.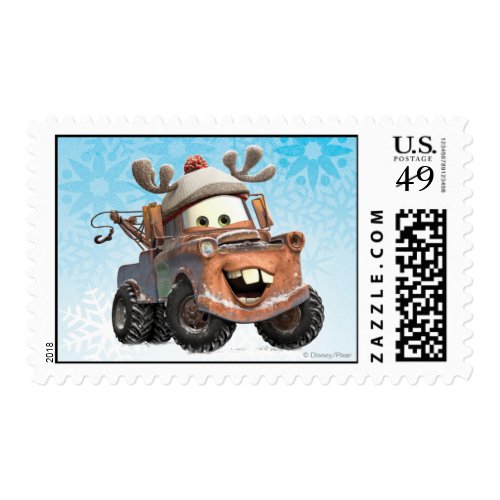 Reindeer Mater Postage  Who knew the mater truck could disguise himself as a reindeer!  Love this Disney design from the Cars movie.
Jingle Bell Christmas Postage Stamps  Fun cartoon design with a cute reindeer with the most curliest of antlers, fun silver snowflakes and "Jingle Bells" in fun red font.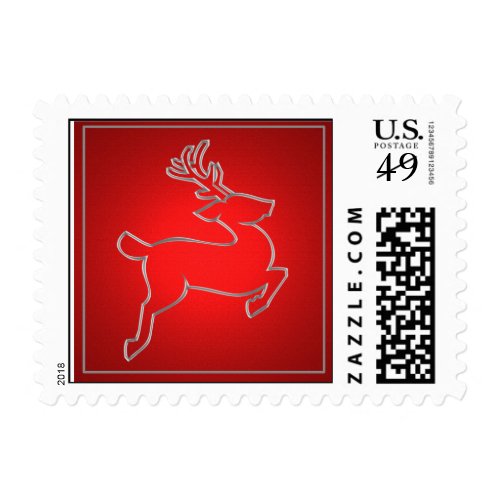 Red Reindeer Postage Stamp Classy bright red stamp with a silver silhouette of a jumping reindeer.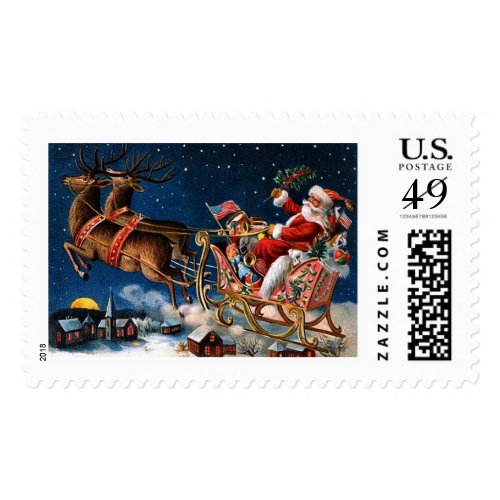 Santa Claus is Comming to Town Postage  Another old time postage stamp with Santa and his reindeer pulling a sleigh full of toys.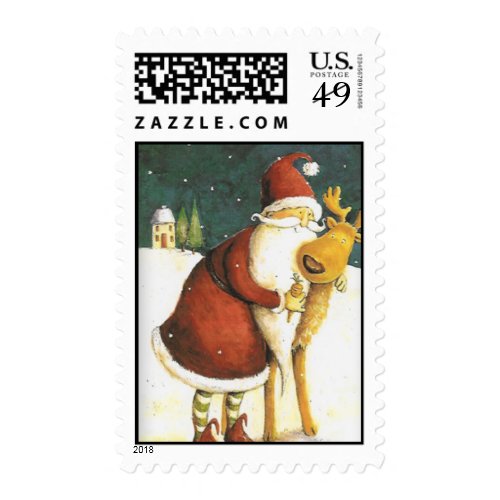 Vintage Whimsical Santa Christmas Postage stamp  This Christmas postage stamp is so warm and loving.  Santa giving a big hug to one of his hard working reindeer.
Reindeer Silhouette Postage  Elegant silhouette of reindeer against a dark brown sky with full moon in the background.  Seasons Greetings is also on the stamp in a soft cursive font.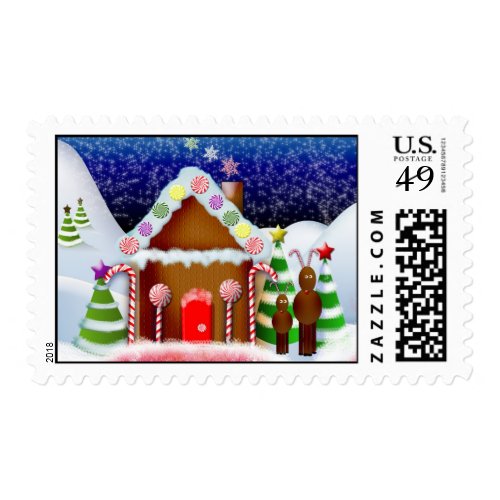 Gingerbread house with reindeer postage
Love this old fashioned gingerbread house with reindeer standing guard.  Fun green Christmas trees and gumdrop ornaments complete the design.
Vintage Reindeer Snowflakes on Newsprint Holiday Postage  This is a soft, vintage design on "newsprint" with a red reindeer in the background.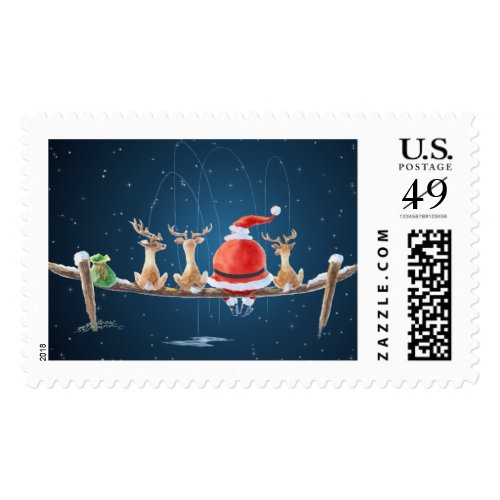 SANTA & REINDEER FISHING by SHARON SHARPE Postage  Santa and his reindeer enjoy a little fishing after the big night.  Cute Christmas stamp for your Holiday Cards and invitations!
Vintage Kissing Reindeer Christmas Postage Stamps  Newlyweds make like this stamp that shows two kissing reindeer and a soft pink heart in the middle.  Of course, mistletoe is shown above their heads.  Love this – perfect postage for the new couple's holiday cards!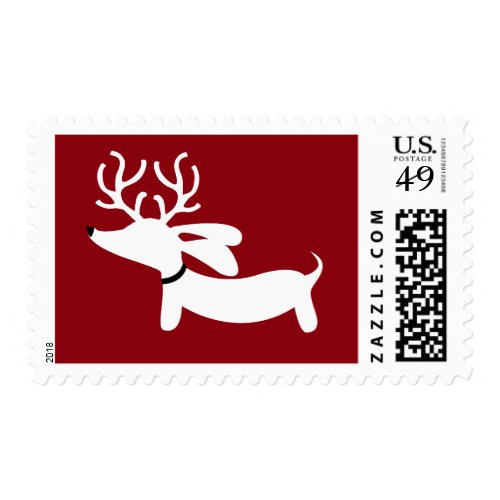 White Reindeer Dachshund on Red Postage  Dachshund is masquerading as a reindeer – too cute!
There are also invitations, cards, notebooks, tshirts, ties and so much more! with wonderful reindeer designs!
Follow us on Pinterest for some hauntingly wonderful pins!